Yup... am back in town.

I wouldn't want to pre-empt the show Good Finds but I've taken notes on the ten best finds of my recent Bangkok trip. I would really want to go back again and just go there for vacation. The trip was great but the work load was really tough... oh well... at least it was a freebie... too bad that my host was nowhere to be found, the feature would have been better if Jenny was there. But yup I think the episode will still be cool with these great finds and all...
Top 10: Fresh Lotus Flowers
being sold at the weekend Flower Market
Top 9: Thailand is such an authority of kitsch.
These stuffed birds are a must for the lovers
of gaudy trinkets.
Top 8: I love the fact that their creative
juices are flowing or even spilling over the streets.
Pop-art side walk vending will
surely be a welcome break to
the MMDA if ever it was done here.
Top 7: They maybe not be politically correct
but the shirts in racy Bangkok have caught my fancy.
I just love them.

Top 6: The best way to paint the town red
is by riding the "Tuktuk". I mean by the
name alone, how else can you go wrong?
It's a tricycle, cum jeep, cum taxi. Go figure.
Top 5: Fried crickets and edible worms might not
be for everyone, but for people who are game enough,
this acquired taste of a food is an experience not to
be missed.
Top 4: The Royal Guards. I've seen the changing of the
guards in
Buckingham Palce when I was still in London,
but man,
our brown brothers are way much cooler.
Calling them regal
would be an understatement.
Top 3: You can see a more traditional side of Bangkok
from a river cruise. Enjoy the sights of quiet villages that
line the canals. One thing I noticed, there are a lot of
Thai boys who love cruising... haha...
Top2: Night Market. This for me is heaven.
Shopping is world's greatest invention I think... hehe.
Only if I had the moolah, damn, we left for
Bangkok and it wasn't sweldo yet so I had to
budget everything. I was able to get cool notepads
and some shirts though..
.
Top 1: Walking around. I love walking.
That's what I usually do whenever I find
myself in a new place. Walk and marvel at the
things around me... I love discovering new
things...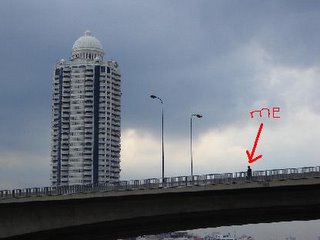 The four day trip was freaking worth it...
haay...